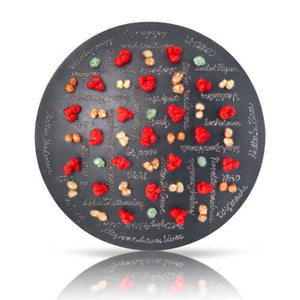 A Moment in Time - April 2020
Regular price
$375.00
$0.00
Unit price
per
From my Concept Collection. During the spring of 2020, I was feeling less than motivated to do much during our COVID-19 quarantine, stuck in a giant creative block. I was shocked as I watched the pandemic rages through our communities. I spent a lot of time reading the news, hoping to find any morsel of hope. At the same time, I was attracted to the form of this deadly coronavirus, with spikes growing out of a sphere. Using a time capsule concept, I created this convertible brooch + pendant.

The hand inscriptions are carved into the surface of a sterling silver disc. These words define this dark period and what we were going through. Each word or phrase is it's own story. The number of deaths in the US is shown at the center, 63,000+, at the time I finished this jewelry piece on April 30, 2020. One can't help but wonder what that number will be at the end of the next month, and the next, or at the end of 2020. It was impossible to believe we would reach close to 1 million deaths in the US, and 6+ million worldwide and continuing.

People asked me "Why would you want to make something that reminds you of so much pain and suffering?" I believe by preserving this moment in time, we can learn not to let it happen again, that we will learn to be more prepared to deal with the next contagion.
Materials:
Oxidized sterling silver, fiber, stainless steel pin stem

Measurements:
2.5" diameter
This item is MADE TO ORDER. Please allow 2-4 weeks before shipping. 
---